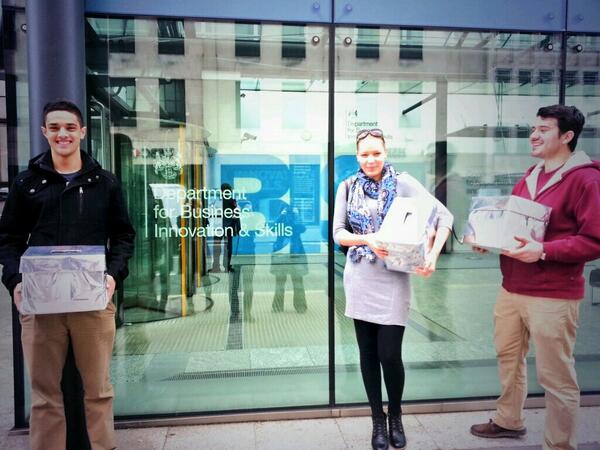 Here is a great picture of students from Middlesex University delivering almost 1,600 letters to the Department of Business, Innovation and Skills, all asking Vince Cable to take action on unpaid internships. But how did they get here?

Students from Middlesex University have been campaigning for fair internships for several months, and have run some brilliant campaigns. They've managed to get over 4,000 students from across London involved in taking action against unpaid internships, either through writing a letter to Vince Cable or signing up to the principles and fairness that they would like to see upheld in an internship.
The letters ask the Secretary of State to introduce a change to the law that would see businesses being legally bound to pay interns after four weeks. At the moment, many employers are getting around paying interns over a long period of time by claiming that what they do is 'work shadowing' or 'work experience' and not real work. This change would make sure that claim impossible in the law.

It was a real pleasure to speak to so many students from across London who really care about their future, but so frustrating to hear from most that they cannot get a break in their chosen industry because they can't afford to work for free.

Hopefully the fantastic efforts of these students will help to remind the Government that they can help young people right now by making this change, and end the damaging practice of unpaid internships.

-- A huge thank you to the students at Middlesex University for their great ideas and passion, as well as MDXSU for helping to organise campaigning on other campuses. Thanks to KCLSU, LondonMetSU, Goldsmiths SU and UELSU for having us. In particular, I'd like to thank Paula Nottingham, Mariam Kauser, Ben Little and Martin McGrath for their hard work in organising our best student campaign ever!

Want to thank them too? Share this page!
Do you like this post?